Meet the Founder
As a Cameroonian who calls beautiful Ethiopia home, I wanted to bring what I have gleaned from my many travels on the continent to my second home, Ethiopia. I also wanted to share "my" Ethiopia with the rest of the continent in an innovative way: through blending the striking, centennial Habesha art with the same from the rest of the continent. I wished to be that bridge and to fuse Ethiopia with other African countries.
Afropian has, since its creation in late 2017, evolved to become a proud Panafrican brand, 100% handmade in Africa. We are blessed with a continent-wide network of artisans and artistes in 15 different African countries who supply us with everything that goes into our unique pieces.
Afropian is also a personal take on African luxury. We build on luxurious, traditionally handcrafted textiles and other art from the continent. In these days of African renaissance, isn't it time to focus on what has always made Africa great? Our creativity, our savoir-faire, our artisanal know-how. For so long, we have heard a story of African misery. The danger of one's story being told by others is that it does not reflect us. I, personally, never recognize the Africa I know in the way the international media portray us. Afropian aims to contribute, however modestly, to changing the narrative around Africa by showcasing African excellence and telling our stories.
We are rich beyond words! Let's claim it! Wear Africa proudly!
– Hortense Mbea
The Fashion Griot
Founder and Creative Director of Afropian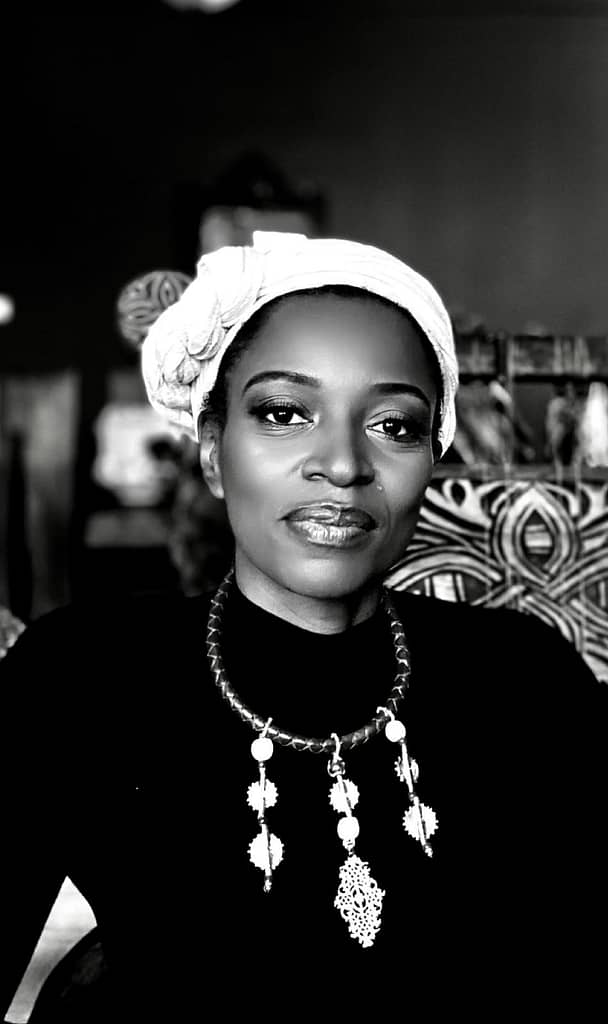 Meet Some of Our Artisans
They are in 15 African countries
CLEMENT, Master bronze smith
Abidjan, the Ivory Coast
During my three-year stay in Abidjan, I was fortunate to discover some incredible brass art. From sculptures to pendants, you name it, they make it! Most of Afropian's brass elements were made by Clément in his workshop by the river in Yopougon. He and his colleagues use the "lost wax" technique where the piece is first carved in wax, then cast into clay. Molten brass is then poured into the cast, left to solidify for a few minutes, the cast is then broken to reveal the piece. It is subsequently polished and can be gold-plated or chromed, or left as is for a beautiful antique look. These pieces blend very well with Ethiopian brass or even silver. Clement, as is tradition, was trained by his father, who was trained by his own father. The work of  brass jewelry-making is reserved to men in the Ivory Coast. The reason being that it is quite a lucrative business and, according to popular belief, when women start making so much money, they tend to become arrogant and neglect their household and family duties (!). These patriarchal views are very entrenched and hard to change.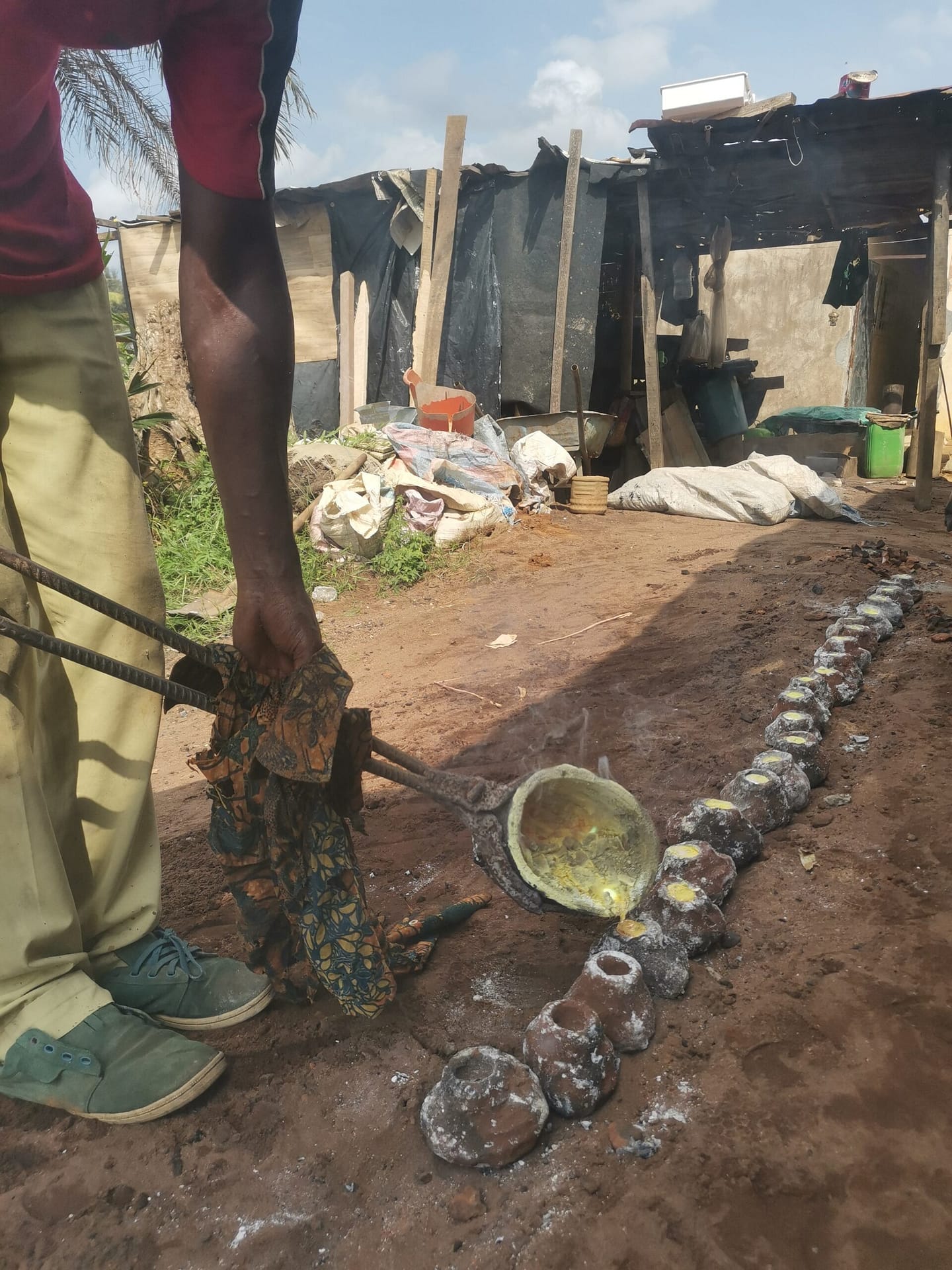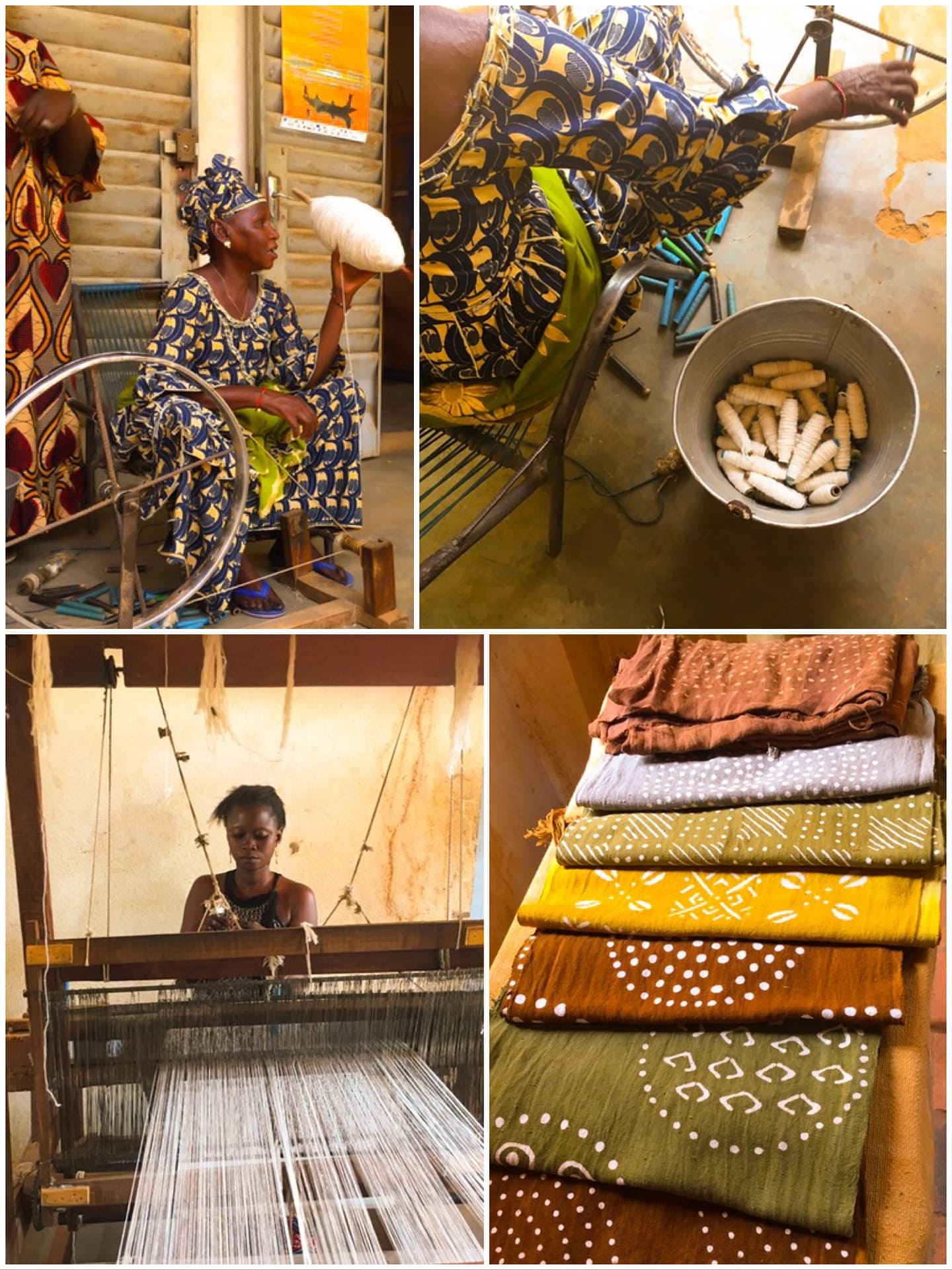 Segou, Mali
Afropian works with a women's cooperative in Mali that supplies us with Bogolan. These ladies perform every step, from spinning cotton into yarn, to weaving it and then dyeing it naturally with clays and herbs. This impressive group of ladies has been supported by a certain number of international organizations and NGOs with training and they are now totally self-sufficient. To the point where they have built a small school in their town and now plan on building a small health center.
Bogolan ("made from the earth"), also known as Bogolanfini or the derogatory "mudcloth", is a painted cotton cloth typical of Mali. Its designs tell a story using age-old symbols. Bogolan was used to mark specific times of a woman or a man's life. It is quite similar to Ethiopian Gabi in texture and weight, therefore, of course, Afropian blended the two!
Addis Ababa, Ethiopia
In Addis Ababa, we work with a group of female Gabi weavers. Gabi weaving is traditionally the job of men, while women spin cotton into yarn, but this wonderful group of women who make our Gabi are a little different. They used to be "donkey women", meaning they would carry heavy loads of wood on their backs from the mountains of Entoto to the city markets in Addis. After they were trained by an NGO, they now spin their yarn, dye it and weave it into the beautiful, warm cotton cloth known as Gabi. All 15 of them support their families and most head a single-parent household. It is actually quite a sight to see their toddlers play around the workshop, crawl or take their first steps, while the mothers work away.
Gabi makes up half of Afropian's Gabitiks, our very popular blankets. We also use it in our infinity scarves.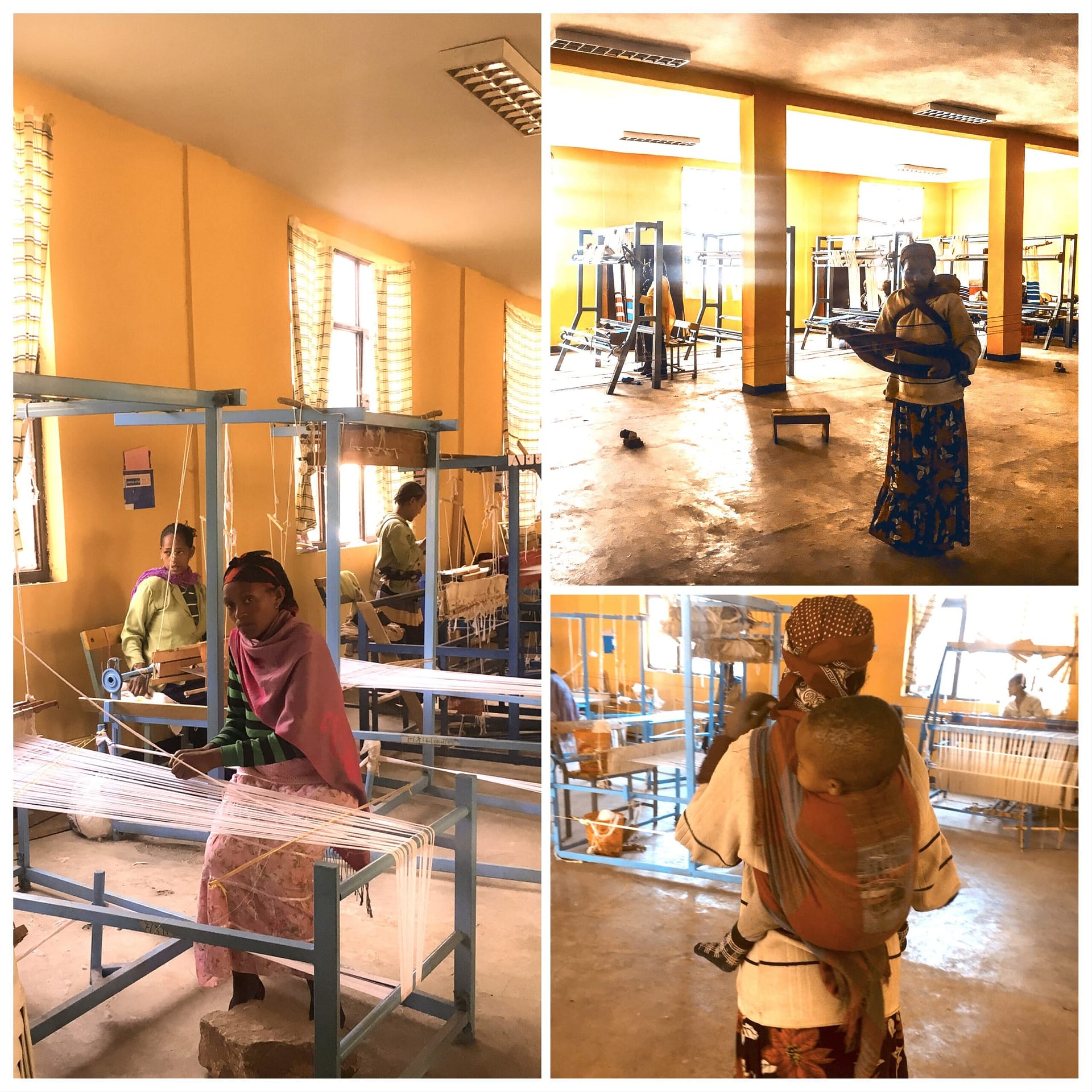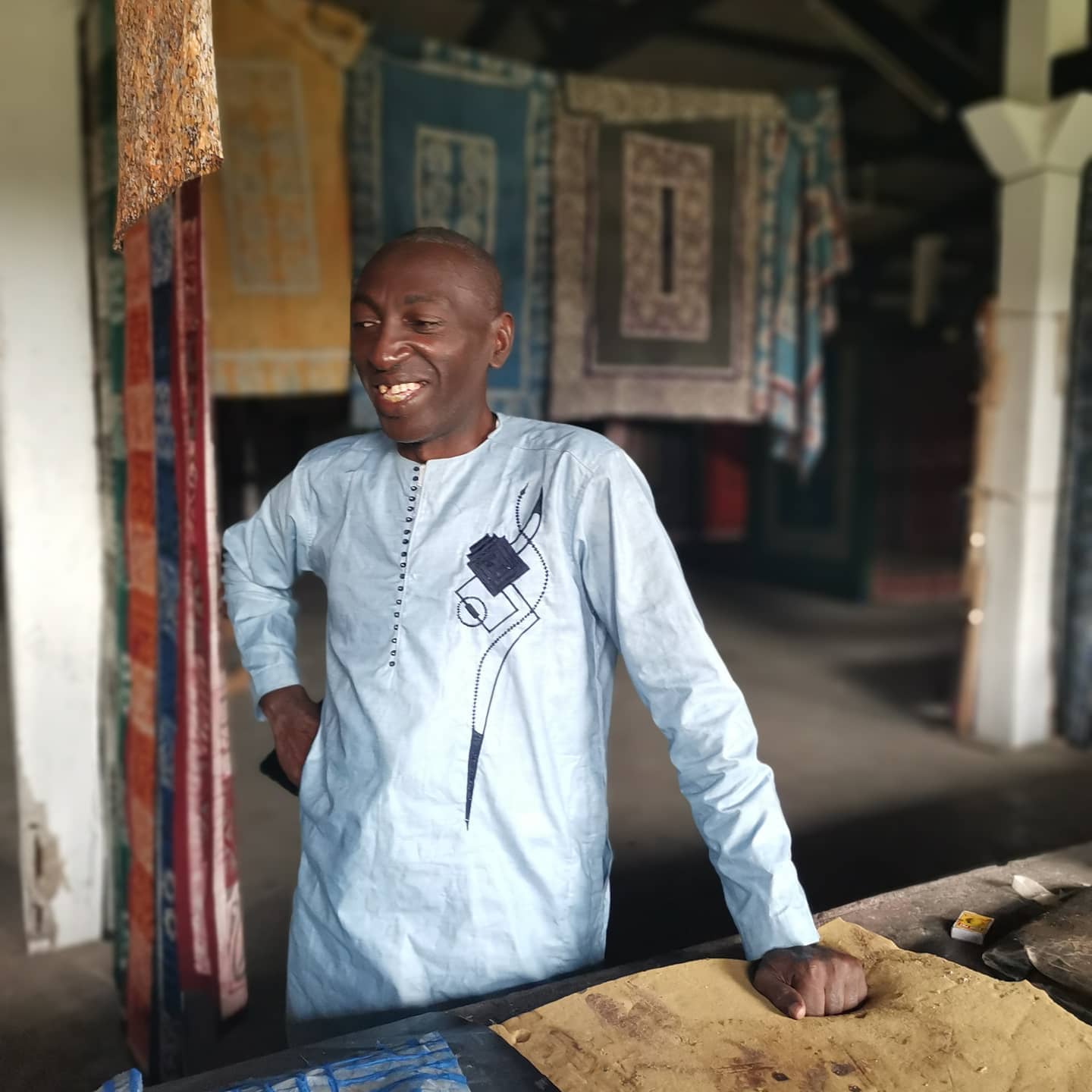 Mamadou, the Batik virtuoso
Grand Bassam, The Ivory Coast
Mamadou, from the Ivory Coast, makes most of our Batiks, though we also source Batik from Ghana. He uses a traditional technique, whereby he carves his designs into wooden stamps, then uses liquid wax and dye to imprint cotton. He then proceeds to immerse the cotton fabric in dye several times until he obtains the desired hues. He is inspired by what surrounds him: nature, people and his culture. Mamadou was trained by his father as a teenager, but, having no children of his own, laments the fact that he cannot find an apprentice to pass on his knowledge to.
Our young Bogolan entrepreneurs
Segou, Mali
Afropian believes in helping the two most economically challenged groups in Africa: women and youths. We source our organic Bogolan from a certified cooperative of young men and women. They have been trained by Helvetas (Swiss cooperation) on how to produce their goods, market them and manage their cooperative. We were very impressed with their energy and vision, and the fact that they are tapping into a somewhat unexplored niche in Africa, that of organic textiles.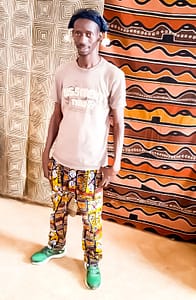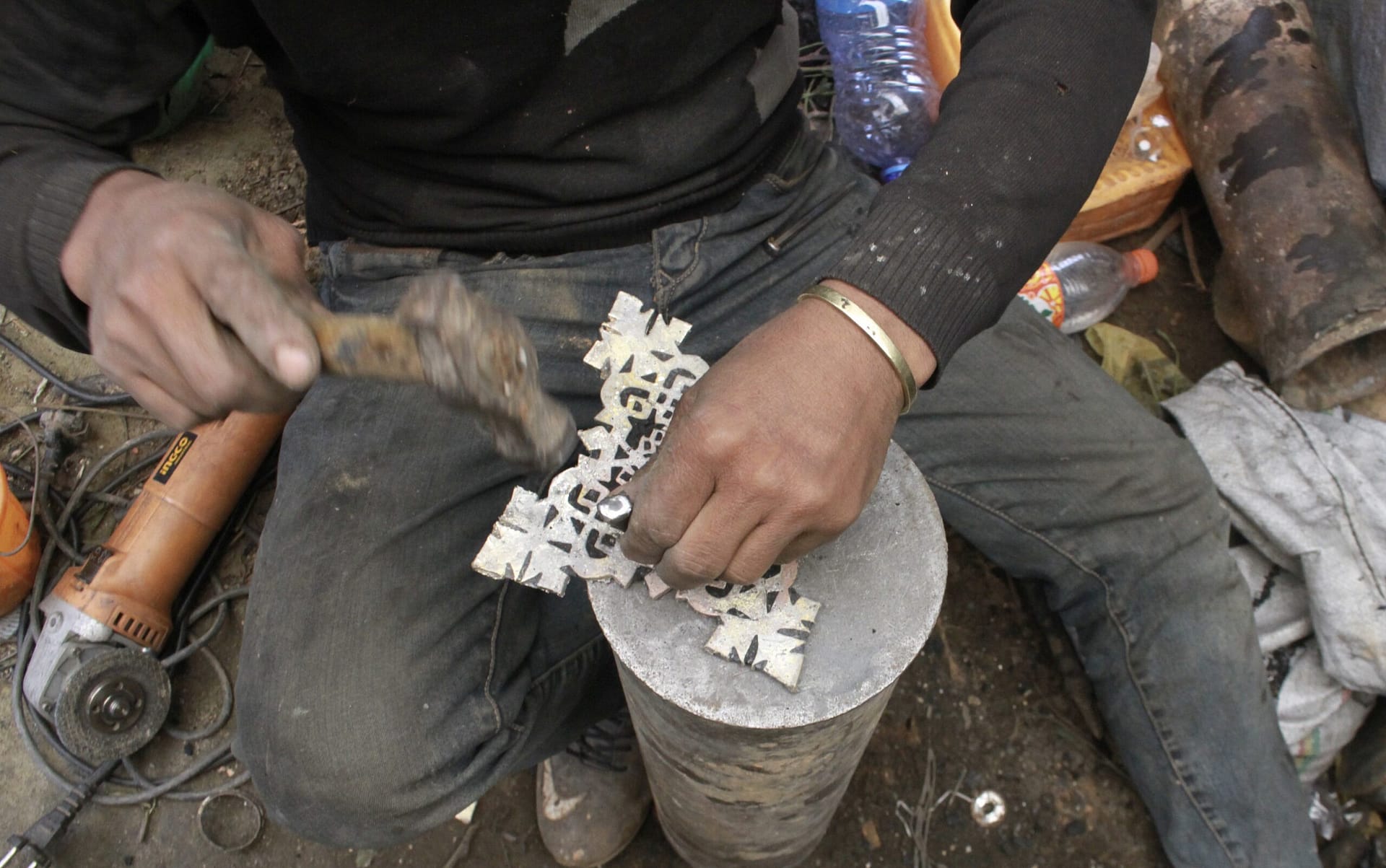 Our bronze smiths in Addis Ababa
Addis Ababa, Ethiopia
They use the same method as their colleagues in Abidjan, to produce the iconic Ethiopian cross. The method is the lost-wax method, whereby molten brass is poured into a mold that has been created based on a wax model. Once the mold is made, the wax model is melted and drained away. And out comes the intricate Ethiopian cross. The variety of theses crosses is outstanding, each region of the country having its own: there are more than 250 designs for the Orthodox Ethiopian cross! 
Brahima, Our Bead Hunter.
Abidjan, The Ivory Coast
Brahima has been helping us source trade beads from West Africa since 2017. He has a wide network of suppliers and also travels around Cote d'Ivoire to find rare beads for Afropian, as well as for his own business. We call him Associé or Partner! Brahima is also a phenomenal jewelry maker and has a wealth of knowledge about beads, jewelry History, as well as Culture in West Africa.